The Bexley Theater's grand opening in October 1935 was a special event in Bexley. This theater, built and operated by Theodore Lindenberg, was located on Main Street near Cassingham Road. Mr. Lindenberg, a retired Columbus industrialist, was also a noted motion picture enthusiast and audio engineer. Shortly after his death in 1941, the theater was purchased by the J. Real Neth Organization.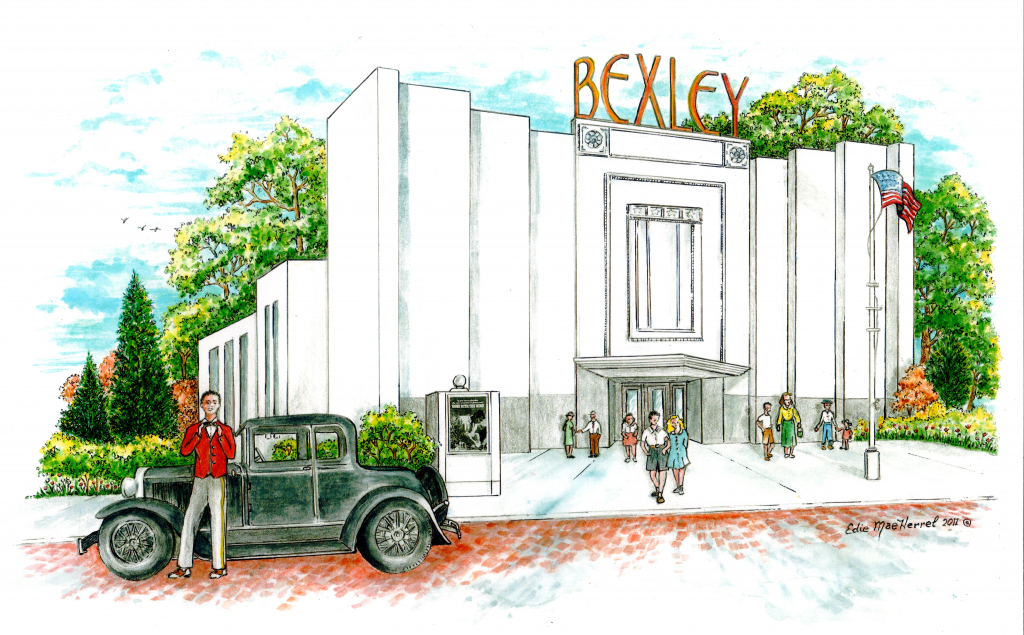 The theater featured two auditoriums with one projector used to display the same film in both auditoriums, simultaneously. The advantage – great sight lines. The theaters were narrow, so each viewer sat directly in front of the screen. The sound system was said to be the finest int he county.
Two pillars situated several yards in front of the entrance enclosed posters of the current feature. A lighted flagpole was placed in front of the marquee with spotlights illuminating the entire front facade.
The inside lobby was mostly unadorned. The smaller outer lobby housed only the enclosed ticket office. Beside each auditorium entrance was a black onyx illuminated drinking fountain that automatically turned on when you bent down to get a drink. It was one of the first fountains with an electric eye in all of Columbus. No popcorn, candy or drinks were sold.
At age 16, I got a job ushering at the theater for 35 cents an hour. We wore a uniform of grey trousers with a gold stripe down the side and a crimson red cropped jacket. Under the jacket was a 'dickie' with a wing tip collar and a black bow tie.
Since I was short, I had a few problems.
First, the trousers were 'one size fits all' – the pants were held up by suspenders and we would adjust the length by pinning up the bottoms. When I did this, the crotch came down to my knees.
Secondly, the 'dickie' and collar were made of cardboard – which was supposed to be white. With so much usage and no way to clean them, they were grey.
I remember working there on beautiful weekends … standing inside the entrance watching friends outside having a wonderful time. Eventually, missing out on high school activities became too much. I turned in my uniform and took a job that gave me more "teenage" freedom.
When talking to Bexley old-timers, two questions about the theater are asked:
What was the name of the first movie to play? "Naughty Marietta" starring Nelson Eddy and Jeanette Mcdonald and
Who was bouth the first ticket? Brad Salt, later of Salt Bros. Hardware and Brad Salt Realtor.
Originally published in Historical Herald, Fall 2012
If you have information to add to this topic, please let us know.
All comments are reviewed before posting.