April 2014, Port Columbus unveiled a statue of Jerrie Mock, the first woman to fly solo around the world. At the time she accomplished this feat, Jerrie and her family were Bexley residents residing at 2490 Bexford Place.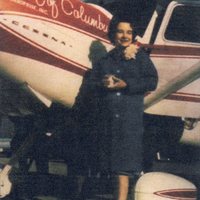 Jerrie Mock left Port Columbus March 19, 1964 in a single-engine Cessna 180, "Spirit of Columbus", for her around-the-world flight. Her approximately 23,000 mile trip took 29 days and ended where it began – Port Columbus – on April 17.
Five thousand people gathered to welcome home the first woman pilot to circle the globe solo. Governor James Rhodes declared April 18 "Jerrie Mock Day" in OH and Columbus Mayor M.E. "Jack" Sensenbrenner proclaimed that same day as Jerrie Mock Day in the city.
Geraldine "Jerrie" Fredritz grew up in Newark, OH. After her family took a short airplane ride, the then seven-year-old Jerrie announced that she wanted to be a pilot. Her heroine was Amelia Earhart. At Ohio State she was the only female majoring in aeronautical engineering. It was the mid-1940s and a career in aviation for a woman wasn't realistic so at age 20 she dropped out of O.S.U. and married Russell Mock.
Jerrie's life-long love of aviation led to flying lessons. After receiving her license, she and Russell became half-owners of a four-seat Cessna 180. The decision to attempt the solo round-the-world flight was made when Jerrie complained one evening at dinner that she was bored staying home all day and wanted to go somewhere. Russell suggested she get in the plane and just fly around the world. She readily agreed!
Once the decision was made and they realized she could be the first woman to accomplish this feat, they tried to keep it as quiet as possible so as not to inspire other female flyers to attempt the journey. Joan Merriam Smith from California, a 27-year-old pilot who flew charter planes, declared she was going to solo around the world following Amelia Earhart's route.
Neither woman recognized the other's plans nor acknowledged that they were in a 'race' – reminiscent of the Nellie Bly / Elizabeth Bisland race around the world in 1889-1890.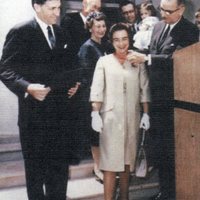 Several days after Jerrie's return, she went to Washington to receive the Federal Aviation Agency's Gold Medal for Exception Service in a ceremony presided over by President Lyndon Johnson. Among other awards received were the Amelia Earhardt Memorial Award and the National Pilots' Association 'Pilot of the Year'. Her 'Spirit of Columbus' now hangs in the Dulles International Airport near Washington, D.C.
"Spirit of Columbus", the Cessna 180 in which Jerrie Mock flew around the world, hangs in the Udvar-Hazy Center of the National Air and Space Museum in Virginia. The Columbus chapter of Women in Aviation, International chose the chapter name Spirit of Columbus in honor of Mock's aircraft.
The United States Air Force named a street in tribute to Mock at Rickenbacker Air Force Base (presently Rickenbacker International Airport.)
Photos from the Edie Mae Herrel collection with research and text by Edie Mae Herrel and Nancy Beck
Originally published in Historical Herald, Summer 2014
This individual is featured in the Cottage Museum's Victorian Parlor.
If you have information to add to this topic, please let us know.
All comments are reviewed before posting.