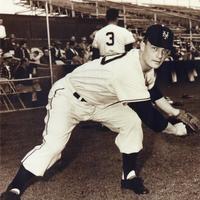 George Spencer (1926-2014), a 1944 Bexley High grad and Athletic Hall of Fame member, earned 11 sports letters, four each in baseball and football and three in basketball.
Following graduation, he enlisted in the U.S. Navy, trained at the Great Lakes Naval Station and served in the Pacific Theater during the final year of WWII. Upon his return to civilian life, he married Billie Eisele, his high school girlfriend, and enrolled at Ohio State. There he played quarterback on the football team and pitcher on the baseball team. His 19 year baseball career began in 1947 when he signed his first Major League contract with the New York Giants. A highlight of this career came in 1951 when the Giants defeated the Brooklyn Dodgers to win the National League Pennant and then going on to the World Series against the New York Yankees.
When George Spencer was interviewed by the Historical Society, he stated that there were several people in Bexley whom he admired and who helped shape the person he became. Below are excerpts from George's thoughts about Coaches Carlton Smith and William 'Mr. Bill' Bernlohr and Mayor William Schneider.
Carlton H. Smith —
…in the early 1920s "Smitty" was the first and only coach of all sports for years …he scoured the neighborhoods looking for donations to help in acquiring equipment …On Saturdays, Smitty opened the high school gym for basketball games – his way of helping to keep kids off the streets. …dedication to the classroom …those in his chemistry classes felt fortunate to have him for their teacher. …Aside from my family, Smitty was one of the three most important people in my life. How fortunate for Bexley to have had a man of his caliber on its faculty.
William 'Mr. Bill' Bernlohr —
…another man who loved the youth of Bexley. Being the Head Coach of sports at Capital, he made the use of Loy Gym, the football field and baseball diamond available to all of us. If he had a nickel for everyone who took advantage of this, he would have been a millionaire. …who knows how many lives he touched …I know positively that I am one.
Mayor William Schneider —
…Growing up in Bexley, young people had the opportunity of finding out that the Mayor had a genuine concern for them. It was obvious in some of his unique ways of teaching lessons to those who "misbehaved" … raking leaves, helping in the Sanitation Department …The Mayor owned a double lot just south of his home which acted as a playground …climbed trees, played games. …I feel Mayor Schneider had a direct impact on my education as a person…
Research and text  by Edie Mae Herrel and Nancy Beck
Photos from the Edie Mae Herrel collection
Originally published in Historical Herald, Fall 2019
This individual is featured in the Cottage Museum's Victorian Parlor.
If you have information to add to this topic, please let us know.
All comments are reviewed before posting.