The Bexley Historical Society recently debuted a new logo based on the iconic Drexel Circle.
Edie Mae Herrel, at the request of the Board, created the logo's concept which depicts features found at Drexel Circle.
Shown is: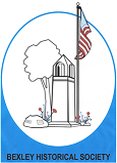 the BOULDER that honors Camp Bushnell, which covered several acres in the area and served as a mustering camp for soldiers preparing for the Spanish-American War;
the OBELISK honoring World War II veterans from Bexley;
a TREE to symbolize our Arboretum City;
FLOWERS that decorate the circle with color every year; and
an AMERICAN FLAG extended past the drawn oval to celebrate all those from Bexley who go beyond our boundaries and participate in meaningful ways in the greater community.
The WHITE background, with a BLUE accent represents Bexley's colors.
Members of the Bexley Historical Society receive a sticker of this logo. Join us and get yours.
Originally published in Historical Herald, Winter 2017
If you have information to add to this topic, please let us know.
All comments are reviewed before posting.