The Agudas Achim Congregation, with a long tradition in Columbus, came to Bexley in 1951, locating at East Broad Street and Roosevelt Avenue.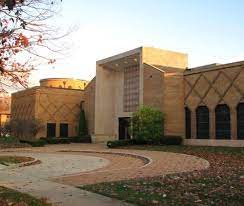 The first public worship, a minyan – requiring at least ten people by Jewish Law – was held in 1881.
For an Orthodox community to exist, the following institutions are necessary:
a House of Worship,
a cemetery,
a Mikvah (a ritual bath for purification), and
a Spiritual Leader.
With the substantial growth in Jewish immigration, especially from Eastern Europe at the turn of the last century, a second synagogue was built in 1907, near what is now German Village at Washington and Donaldson Streets.1
Its members sharing the suburban growth eastward, Rabbi Samuel W. Rubenstein, newly appointed in 1949, lead the congregation to Bexley – expanding the programs provided. In noting the leadership of the congregation in its early days, one sees the number of Columbus families who have continued being active members through the third and fourth generations.
It was at the time of moving to East Broad Street that men and women were allowed to sit together in the center sections with separate seatings on each side.
The Building Committee was one of the major committees needed to make the synagogue a reality with Harry Gilbert chairing, and Jacob Krackowitx, Sam Shlonsky, and Joseph L. Schwartz co-chairing. Joseph Schwartz also chaired the new building construction committee with Max Schottenstein and Harry Marybrook as co-chairs. At this time, Harry Marybrook was also Chairman of the Board.
Rabbi Alan G. Ciner became spiritual leader of Agudas Achim Synagogue in February 1983, with Les Wexner chairing the investiture ceremony. Rabbi Ciner instituted innovative programs of prayer, study, and spirituality. He also served in a wide range of local, regional, and national organizations including election, in June 1990, to the national executive board of the Rabbinical Council of America (the largest Rabbinic organization of Orthodox Rabbis in the country).2 Rabbi Ciner retired in the summer of 2000.
A significant aspect of his ministry focused on teenagers. A legacy of his at Agudas Achim is the way the teens continue to excel in a number of regional and local Jewish youth programs. For children, kindergarten through 8th grade, the Agudas Achim Academy, now beginning its fourth year, teaches Hebrew, Jewish sacred literature, Jewish values, morals, and the essence of Jewish life.3
The women, through their Sisterhood group – currently headed by Monica Calabrese and Ellen Spialter, organize among their community service activities, social events, and run a gift shop.
Rabbi Stanley Vogel is president of the Brotherhood that also engages in fundraisers, among their major responsibilities related to financial and fraternal activities.
Agudas Achim remains an attraction to more recent Jewish immigrants looking for a new home in Columbus. The membership is approximately 800 member families. Current lay leadership includes Ronald Rudolph, President; Alfred Friedman, Treasurer; Jay Schottenstein, Chairman of the Board; and Leslie Wexner, Vice Chairman of the Board.4
Adapted from article By Edward L. Hamblin
Bexley Historical Society President, 1997-2002
Originally published in Historical Herald, November 2000
If you have information to add to this topic, please let us know.
All comments are reviewed before posting.
Sources:
1 Copy of an interview with Louis R. Goldfarb for the Columbus Jewish Historical Society by Louis Berliner, copywrite 1998-2000.
2 Biography of Rabbi Alan G. Ciner, Distributed by Agudas Achim Synagogue, @ 1990.
3 LAPID, newsletter, Agudas Achim Synagogue, September 2000.
4 Cyril Duga, personal interview, 12 October. 200 and Liz Kalef, Executive Director, Agudas Achim Synagogue, telephone interview, 19 October. 2000.