Should there be a Lutheran church in north Bexley to serve that area? That was the question which a number of members of Christ Lutheran Church on Main Street were asking in the late 1940's.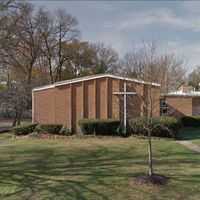 Under the impetus of Theodore Horst, an effort was made to find out. As an attorney for the American Lutheran Church and a committed churchman, he and Dr. C.E. Linder, chairman of the Mission Committee of the Ohio District of the American Lutheran Church, began the process of bringing Good Shepherd to a reality. In March 1952, Rev. Norman E. Wegmeyer met with the preliminary planning committee, which included Walter Heim, Dr. Otto Ebert, Harold Peters, and Clarence Held. They arranged for the first service to be held in Maryland Avenue School on May 25, 1952. Forty-eight people were present for Sunday school and 78 attended the worship service.1
On September 21, 1952, the congregation was formally organized with Dr. Otto Ebert preaching on the topic, "The Good Shepherd."
Seven lots were chosen at the corner of Maryland and North Merkle from the newly platted land that had been the Walters family farm.2 An additional two lots were presented by Christ Lutheran as a gift to the new mission church. These lots, south of the seven, is where the parsonage was completed in 1954.
Construction began on November 15 by the contractor Howard Zimmer, at a cost of $39,619. The church structure was dedicated on April 26, 1953.3
By the beginning of 1954, the congregation voted to operate on a self-supporting basis. Pastor Wegmeyer preached his farewell sermon in September 1955. The Rev. Robert T. Reiss was installed as the second pastor on August 12, 1956. Those following were:
Rev. Richard C. Bosse, '60-'67;
Rev John C. Kromer, '67-'74;
William Mercer, '75-'88;
Rev. David Conner, '83-'88;
Rev. Constance O'Mealy, '89-'95; and
Rev. Louise Mollick, '96-'98.4
The women of Good Shepherd were early in organizing, holding their first meeting on September 24, 1952 at the home of Mrs. Robert Garbrecht. Other groups that have flourished, as the need arose, were the Couples Club, Luther League, Boy Scouts, Cub Scouts, Brownies, Preschool, and Vacation Bible School.
Ms. Judy Valentine, Council President at the time of this writing, mentioned the appointment of the Rev. Katherine Arbaugh-Patmon, who was to be install as pastor on May 13, 2001. Rev. Arbaugh-Patmon also had pastoral responsibilities at the Reformation Lutheran Church on Hamilton Road. It is thought this arrangement was the first for urban churches in the Southern Ohio Synod of the Evangelical Lutheran Church in America.
Adapted from article By Edward L. Hamblin
Bexley Historical Society President, 1997-2002
Originally published in Historical Herald, June 2001
What happened next? If you have information to add to this topic, please let us know.
All comments are reviewed before posting.
1 Unpublished statement by Pastor Norman Wegmeyer given January 4, 1953 at the cornerstone-laying ceremonies.
2 Unpublished historical summary: "Beginnings of Good Shepherd."
3 Dedication booklet: "Good Shepherd Evangelical Lutheran Church – April 26, 1953"
4 GOOD SHEPHERD LUTHERAN CHURCH 1952-1972, "Two Decades of Progress" edited by Eileen Young
5 Eastside Messenger, June 3, 1991, "Bexley Church Shepherds Kids into Tutoring Program" by Ina Whitmore.
6 Interviews with Ms. Judy Valentine, Council President, April 3 and 19, 2001.