The area known as Bexley has changed through the years. In 1876 Capital University moved from Columbus out to farmland just east of Alum Creek. During the next forty years, residences began clustering around the university – with perhaps two storefronts dealing with some of the essentials: food, barbering, and pharmaceuticals. As we take a stroll along the north side of Main Street, heading east, how many current businesses or establishments can you place in what once was there?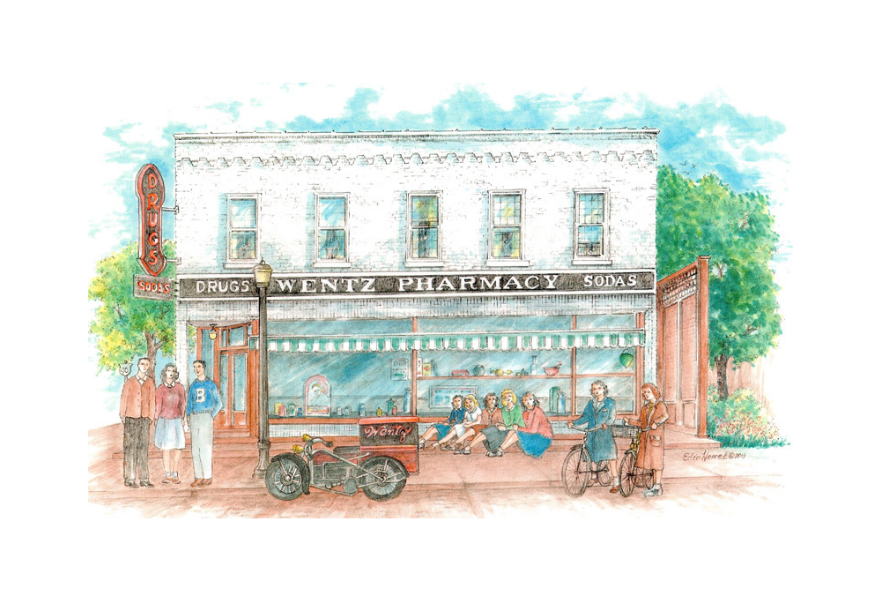 It is the mid-1930's and we have just finished a delicious chocolate soda at Roy Wentz's Pharmacy located on the northeast corner of Drexel Ave and Main Street. Just east of Wentz's we encounter one of many gasoline stations that cropped up in the last ten years: the Pure Oil Company. Next to Pure Oil is Christ Lutheran Church, completed in 1923. Of the three houses left on the block is the office of Robert S. Dingledine Realtors, whose signs we see sprinkled all over Bexley.
At Main and Dawson is a relatively new building housing one of three Kroger stores in Bexley, a hardware store and the Bexley Barbers. On the south side of Main Street are several buildings belonging to Capital University, but at the southwest corner of Main and Pleasant Ridge is a SOHIO Gasoline station. The aronym, SOHIO, stands for Standard Oil Company of Ohio, one of Mr. John D. Rockefeller's progeny.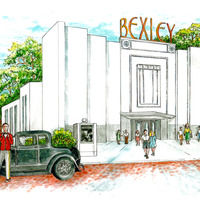 The corner house at Dawson & Main is the office of Dr. Richard A Wallace. The rest of this block is dominated with homes until we reach a four front commercial property where we find Hazel's Beauty Shoppe, Bexley School of Dancing, Fenton's Cleaners and Mykrantz & Sons Drugstore. As we cross Cassady, there is Jack Sheldon's Gulf Gas Station followed by housing until we come to the newly completed Bexley Theatre. This made the national news with Theodore L. Lindenberg's double auditorium projection system.
At the corner of Cassingham and Main is the Sher Brothers' upside down champagne glass short order restaurant – made of glass block and concrete. Fittingly, it is called the Glass Bowl.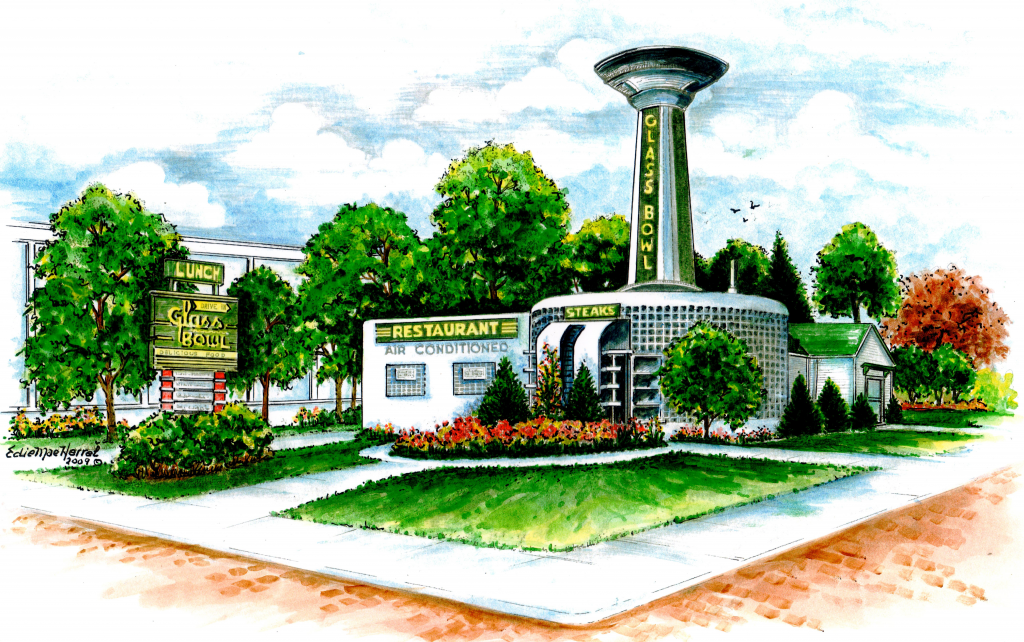 Looking across the street from Pleasant Ridge to Cassingham, we an see Ralph Connell's Florist Shop, the Bexley Public Library, Sinclair Oil (another gas station), and, yes, another gas station – Texaco. At the corner of Cassingham and Main is the office of Dr. Augustus A. Hall, general practitioner.
As we continue our stroll down the north side of Main Street, going from Cassingham to Remington, we note the impressive Potter-Gager Ohio Oil Company (later known as Marathon oil). Here we see the running Flash Gordon type runner on the tower. Well, let us say it is an impressive sign to an eight year old boy who rides up from South Cassingham to fill his bicycle tires.
Next door to Potter-Gager is the new Kroger supermarket, which is under construction. The remainder of this block contains single family homes.
On the south side of Main Street, between Cassingham and Montrose, is a solid block of retail establishments. First is the Great Atlantic and Pacific Tea Company grocery – more commonly referred to as the A&P. Then there is Modern Cleaners, a second Kroger Store (soon to be closed), another grocery specializing in canned foods, The Bexley Pharmacy, Paul Foltz's Paul's Pastry Shoppe, Walter Ming's Far East Restaurant, Bexley Hardware, and Ralph Martin's Barber Shop (on the corner of Main and Montrose).
From Montrose to Remington is the school which, until 1933, was Bexley High School. Now, it is an elementary school.
Were you able to "fit" current Main Street into what used to be the mid-1930's?
Adapted from article By Edward L. Hamblin
Bexley Historical Society President, 1997-2002
Originally published in Historical Herald, June 2007
What happened next? If you have information to add to this topic, please let us know.
All comments are reviewed before posting.
Sources:
Polk's Columbus City Directories; 1936, pp. 1636-1637; 1937, pp. 1654-1655
Archives of the Bexley Historical Society
Reminiscences of Edward L. Hamblin