By June 1925, store fronts in Bexley were moving out east on Main Street from Drexel, as far as Montrose Avenue. Paul Foltz was a twenty-year-old entrepreneur who contracted a builder even before the six storefronts on the blocks between Cassingham and Montrose were finished. This, he began with $33 in his pocket and his father-in-law's signature on the lease for one month's rent of $75.1 With three years working for a chain grocer behind him, he saw the potential of a quality independent grocer in this expanding suburban community of up and coming citizens.
Paul's Fruit Shoppe had its proprietor downtown on Town Street early in the morning, using his $33 to buy his select fruits and vegetables. After two months of running the operation solo, including closing down the store when he made nearby deliveries, his wife, Grace, joined him – giving up her job working for the state.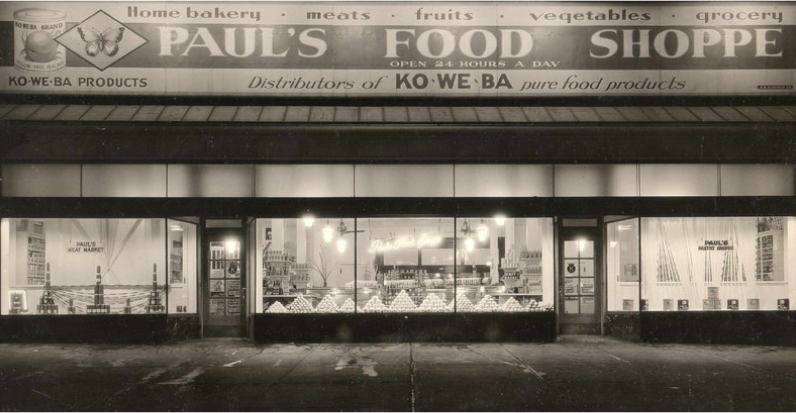 Paul had a vision of what he wanted to do – which he shared with a journalist from the PROGRESSIVE GROCER. Paul said, "I came out to this end of town because the wealthiest people in Columbus live here. People who like good merchandise and are willing to pay a good profit to get the best."2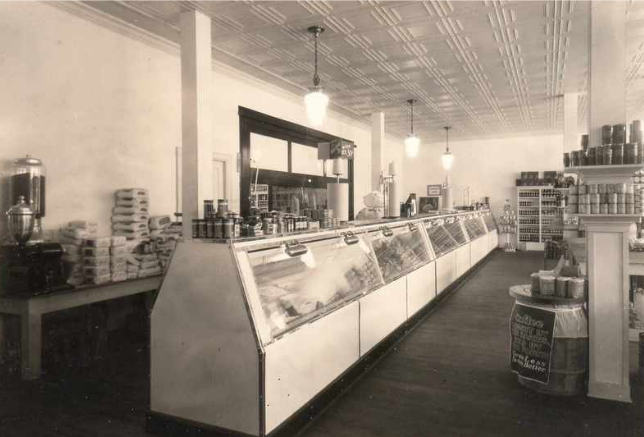 Being an innovator and an early success, Paul Foltz purchased land next door to the east and planned an expanded store, which opened in November 1930 – called PAUL'S FOOD SHOPPE. It was over ten times as large and featured what we would now call a gourmet meat department and an in-house bakery. His work force grew from nine in 1928 to twenty-seven in 1933 – with a fleet of four delivery trucks that made four deliveries a day at stipulated times.3 Noting that evening traffic was heavy on Main Street, Paul began keeping the grocery open twenty-four hours a day.
Paul maintained high employee morale by involving his employees in bowling teams and a baseball team that became part of the Franklin Independent League. He hired seminary students as part-times.
As a young kid in the late '30's, I remember the Packard raffle that was held with the car on the sidewalk in front of the store. It was during these years that I tagged along grocery shopping with my mother. My impression of the store was that it was a big, bright, bustling, friendly place with a variety of fragrances of coffee, cinnamon rolls, and jasmine tea.
On July 14, 1941, Grace Foltz found herself without a husband, who had succumbed to a heart attack.4 Having good managers and a good sense of the operation herself, she saw the store continue to prosper.
Howard Stammler, as a college student at Weslyan, began working at Paul's during the early thirties – followed soon by his brothers Dick, George and Bob. Following WWII, they returned, joined by little brother Bill, as he attended the Ohio State University.
In 1946, Grace and Howard were married. Grace, in referring to her early days with Paul, spoke to her sister-in-law, Jane Stammler, of the times when she spent most of Friday night picking chickens, then hopping a train Saturday morning with Paul to go to Cincinnati to watch a baseball game.
Bill Stammler relates, "By the late fifties, the grocery chains, with greatly expanded lines of merchandise and more adequate parking, finally began to take their toll on Paul's clientele."5 He went on to explain that with the lifestyle of the next generation changing, the homey, personal attention given to shoppers and delivery service were not the great drawing cards they had been. With Howard's death in 1977, it was time for Grace to cut bait.
David and Judy Beard purchased the store to continue on the tradition of an independent specialty grocer that made home deliveries in Bexley. The Beards closed PAUL'S eighteen years later in 1997.6
Adapted from article By Edward L. Hamblin
Bexley Historical Society President, 1997-2002
Originally published in Historical Herald, May 2000
If you have information to add to this topic, please let us know.
All comments are reviewed before posting.
1 A number of early facts gleaned from The Progressive Grocer, May 1928, Vol. 6, No. 7, 10-78.
2 Ibid., 13.
3 Additional information found in The Progressive Grocer, April 1933, Vol. 12, No. 4, 16-58
4 The author benefited from the personal impressions of William M. Stammler and his wife, Jane Wright Stammler. An oral interview on audiotape conducted by Ed Hamblin is available through the Bexley Historical Society.
5 Ibid.
6 The Columbus Dispatch, November 17, 1997, 6.