Who has not heard of Willard Wendt? He moved his restaurant from Kelton and Main, just west of Bexley, to the corner of Drexel and Main, in 1926. It initially was in the eastern half of what is better known today as Graeter's Ice Cream.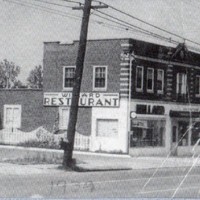 Bill, as he preferred being called, was an avid sportsman who had starred in football and basketball at Ohio and Depauw Universities.1
The success of his restaurant caused him to move across Drexel in 1927 to larger quarters at 2143 E Main. It became THE place to eat and socialize for an active, fast-growing community that included Capital University students and faculty.
In 1934, Bill took over management of the Blue Moon Tea Room, which occupied the eastern half of what became the permanent home of the Willard Restaurant, renamed in 1936.
It took until 1947 for Willard Wendt to expand in the western half of the building, making it the restaurant many of us remember. With the Sunoco Gasoline Station just east, on the corner of Sheridan and Main, closing in 1952, an opportunity arose for Bill to open a carryout facility the following year.2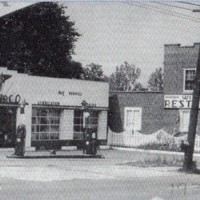 The Tarpy family took over the restaurant in 1980, already managing their market just west of the restaurant. They continued, after redecorating, to provide the same tea room fare at a modest price that made Willards so popular.3
Gary and Caroline Anderson leased the restaurant from Capital University in 1985 adding an ice cream parlor, but continuing in the Willards tea room tradition. With diners' tastes changing and competition from other establishments, Willards closed in 1988.4
In 1990, Susan Berg came up with a novel plan to re-establish a restaurant at the location, and called it the Touchstone Cafe. In addition to serving good food, it now had another component – serving as a training ground in food services skills for people with developmental disabilities.5 Support for this training was arranged through federal funding directed by the Bureau of Vocational Rehabilitation. Unfortunately, with so many other training options for those with disabilities, the Touchstone Cafe lost a substantial part of its funding and closed in January 1996.6,7
Not to be daunted, Fisherman's Wharf made a successful entrance in 1998. Niki Chalkias and his partner, Khaled Ballouz, brought a newly enhanced atmosphere and professional quality to reward the diner's palate. Niki emphasized to me that all dishes are cooked from scratch with fresh produce.8 Along with choice fish selections, one had the option of chicken, steaks, or lamb. Bexley, again, could be proud of its fabled restaurant that attracted discriminating diners from all across Central Ohio.
Adapted from article By Edward L. Hamblin
Bexley Historical Society President, 1997-2002
Originally published in Historical Herald, November 2001
What happened next? If you have information to add to this topic, please let us know.
All comments are reviewed before posting.
1 "Former restaurant owner, Wendt, dies", The Columbus Dispatch, November 23, 1983.
2 Information drawn from research and article done for the Bexley Historical Society by Helen Marsh, June 1985.
3 "A New Look For An Old Favorite" by Joanne Williams, The Columbus Messenger-East, January 11, 1982, Vol.8, #36.
4 "Going, going, gone – Auction ends era of Willards" by Jay Elhard, Bexley News, July 20, 1988, Vol.3, #16.
5 "Touchstone Cafe provides unique training, services" by Ina Whitmore, Eastside Messenger, August 20, 1990, Vol.16, #16.
6 "Touchstone Cafe 'on target' after one year" by Erik Battenberg, This Week in Bexley, July 24, 1991.
7 "Changing trends may hurt Touchstone" by Alice Thomas, The Columbus Dispatch, February 11, 1996.
8 Interview with Niki Chalkias, co-partner of the Fisherman's Wharf Restaurant on October 3, 2001.