Renovations to Restore Drexel Theatre to Art Deco Splendor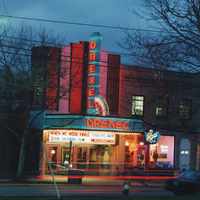 Later this summer, when patrons of the Drexel Theatre can visit again, they will walk up under the glow of the replaced neon marquee lights and colored lights behind the glass block, while looking up to the rehabbed original ceiling.
As they enter, they will step onto original terrazzo flooring. As they proceed, they can order concessions from a new counter fitting the Art Deco style of the building. These are highlights among the many renovations that the Friends of the Drexel group are undertaking.
The Drexel was built in 1937, and was renovated in 1981 and 1991. It was listed on the National Register of Historical Places in 2015, which allowed the theatre to apply for historical tax credits. Additional support for the renovation came from local citizens, the Bexley Community Foundation, Franklin County, the City of Bexley and the State of Ohio.
One of Bexley's landmarks, the Drexel Theatre is featured on the cover of Images of America/Bexley. The book may be purchased at the historical society, book stores and at Amazon.com.
Originally published in Historical Herald, Spring 2016
If you have information to add to this topic, please let us know.
All comments are reviewed before posting.