When Bexley gained city status in 1931 with over seven thousand people, the Main Street Bexley High School had been in operation nine years. It was no wonder that by 1930 Bexley's Board of Education initiated plans for a new high school. Enrollment had risen from 147 students in 1924 to 462 in 1931. A bond issue of approximately three hundred thousand dollars was passed allowing for land acquisition, choice of architect and the appointment of a superintendent-of-construction. All these bits of information and many more are conveniently tucked away in the district's board minutes.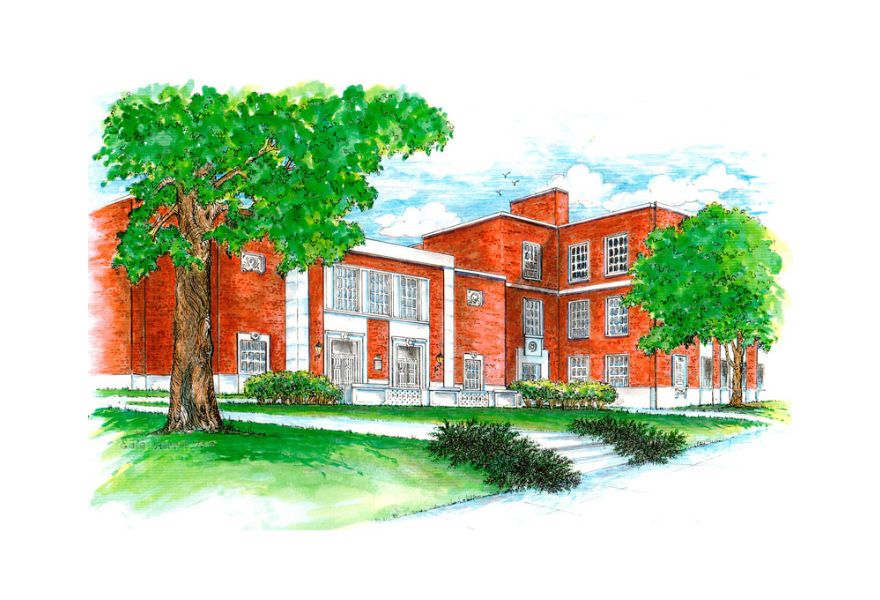 When an alum thinks of his or her high school, what are the first thoughts that come to mind? Louise McKeever McCulloch was one of the hundred and four in the first graduating class from the new building in June 1933. Yes, her favorite teacher was Amy Brightman. Louise was in the Girl's Athletic Club with a special interest in tennis. She was Assistant Editor of the TORCH and was tapped for the National Honor Society. Though other classmates have been seen occasionally over the years, she enjoys seeing, rather regularly, Jeanne Bonnet McCoy. She does look back with gratitude to the contribution that her classmates Bob Glick and Bill Hoyer made in leading the planning for their many high school reunions. And, as you might have guessed, Wentz Drugs was a popular hangout even in her day.
Those of us who graduated as recently as the early fifties might be surprised to find about the same faculty that moved over to the new building in 1932:
Mary Bethel, later Mrs. Trivella
I.R. Kefauver
Reta McCormick
Bernice Mullins
Thelma Ricky
Lucille Selbach
Carlton Smith
Marion Thomas
Harold V. Tipton
Russell Kessler, principal
Ruth Geist was the new high school teacher on the block.
Yours truly was in the Class of '48 having just celebrated our Fiftieth Reunion the last weekend of September. Fifteen years after Louise graduated, the seniors totaled 130. John Schacht, who came in 1933, was my homeroom teacher the freshman year and taught me geometry as a sophomore. My favorite teach was Lucille Selbach, who was my homeroom teacher the junior year and taught me English both the junior and senior years. A ticket promotion committee, French Club and four years of choir were among my activities. Those, capped with the National Honor Society, managed to keep me pretty well out of trouble. Wentz Drugs was still a popular hangout after school.
If we go sixteen years later we have some interesting observations by the nationally known syndicated columnist, Bob Green, in his diary about his 1964 year of Bexley High, Be True to Your School*. Some of the teachers have changed with him mentioning Eugene Millard and Sara Amos, with one of his favorite "whipping men" being principal, C.W. Jones. One hesitates to pick among his detailed coverage of the many activities he participated in each month. He is able to see life through the eyes of an adolescent, which at times can be humorous and sometimes touching. One idea threaded throughout that year was John Schacht reminding him to be more conscientious in his studies. He was much into the Beatles and mentions many of his classmates that he palled around with the most. Some of his time was taken working on the TORCH, arranging for articles or having pictures taken along with tennis as one of his interests. By now the graduating class had grown to 203.
Has this cursory overview of the beginnings of the Cassingham Bexley High building brought back some poignant memories of your own high school days? I hope so.
adapted from article by Edward Hamblin
Bexley Historical Society President, 1997-2002
Originally published in Historical Herald, November 1998
If you have information to add to this topic, please let us know.
All comments are reviewed before posting.
*Green, Bob. Be True to Your School, A Diary of 1964. Anthenum: New York, 1987.