Interview with Alma McGuire, retired secretary, Bexley Parks and Recreation. Interview date not given.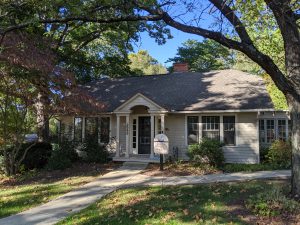 Alma McGuire recalled that Mr. Robert H. Jeffrey attended her wedding when she married Robert McGuire. Alma's father-in-law, Bill McGuire, was Mr. Jeffrey's chauffeur.
Alma stated that her husband grew up in the cottage down by the swimming pool. She also said that the cottage was one of the first prefab homes ever erected and that Mr. Jeffrey installed it for his grounds maintenance supervisor. When the supervisor left, Bill McGuire and his family moved into the cottage. Mr. McGuire than took care of the Jeffrey grounds for about 20 years.
Mark Epstein, Ohio Historical Preservation Office and a Bexley resident, did extensive research into the cottage. Quoting from a section of his report presented to the Bexley Historical Society Board, May 2006, "The house was probably built in the 1920's, but I have found no clear evidence of that yet. It is rumored to be a catalog house, but I have no clear evidence of that yet, either. I have heard 1022 given as date of construction…"
Do you have any information related to the history of the cottage? The Historical Society would be most appreciative if you'd share that history.
Originally published in Historical Herald, December 2006
The McGuire family occupied the Cottage from, approximately, the mid-1930s to late 1950s. Following are some notable dates as found by Glenn Soden, past-President and Trustee of the Bexley Historical Society:
4/3/1938 – Margaret McGuire – age 7, while walking with a woman, aged 70, was uninjured in an accident when struck by a vehicle
1940 Census – showed William E. McGuire, age 40, as Caretaker, with wife Mabel M., age 34, and children: son Richard McGuire age 15, daughters Betty E. age 12 and Margaret M. age 10 – the current "sunroom" was, reportedly, the children's bedroom.
8/27/1947 – William McGuire reported a boat stolen from 2080 Clifton – 2 suspects were caught.
7/13/1949 – Wedding announcement for Richard Harvey McGuire (son)
11/6/1949 – Wedding attendants at Richard McGuire's wedding were Mrs. Robert McPeke and Mrs. Margaret Looker
1950 Census – 2080 Clifton is in the enumerated district 25-172:
11/5/1952 – Fire Run burning logs at 2080 Clifton
7/11/1954 – Mr & Mrs. Jack Shipe birth of son

NOTE: Betty E. McGuire, daughter of William "Bill" McGuire, caretaker and chauffeur for Robert Jeffrey for 46 years, married Jack Shipe. The marriage continued Betty's residency at the cottage
What happened next? If you have information to add to this topic, please let us know.
All comments are reviewed before posting.