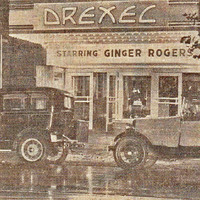 The 1930's ushered in the golden era of the movies, with some of us included in that eighty million single admissions making up 65% of Americans each week going to the movies1.
The Bexley Theatre opened in 1935, to be followed by the Drexel's opening night of December 25, 1937. An old storefront was transformed into a fabulous new glass block multi-colored marquee whose lobby opened into a large theater capable of holding nearly eight hundred patrons.
This was William Chesbrough's ninth movie theater in Columbus with the December 21 Columbus Dispatch stating the "new Super-Simplex projection machines with the latest type Peerless arc lamps will provide a new conception of screen illumination."2 After a film made its debut in one of the downtown theaters, like the Loews Ohio and Broad, or the RKO Palace and Grand, the movies would be booked out in the residential parts of Columbus.
With television becoming common in homes by the early fifties, Jerome C. Knight, a Bexley resident, had the challenge of making it a paying operation when he bought the Drexel Theatre. Beginning in April 1959 with Gigi, followed by Fiddler on the Roof running for forty-four weeks, the Drexel gained new stature.
Jerry was not new to the motion picture business. He began at the age of ten selling popcorn in his father's Royal Theatre at East Main Street and Fifth. His 1976 Community Service Award summary included this statement: "(He) has presented no X-rated films… worked with schools, senior citizens, churches, and other groups to present certain classical films for special showings."3
Jeffrey and Kathleen Frank bought the Drexel in 1981, opening October 27 with a festive evening featuring Top Hat starring Ginger Rogers and Fred Astaire. Ginger Rogers, herself, was there showing some of her musical clips along with host, J. Ronald Green, Chairman, Department of Photography and Cinema, The Ohio State University.4
Needless to say, the two showings that evening were a total sellout. Vintage cars out front also lent a special art deco '30's ambience to the occasion. Retention of this style, as the theater was carefully restored, has followed in subsequent showings – like the animation festival of the fall of '86 and the fourth celebration of Casablanca which began in February 1996. Jay Elhard, in the June 18, 1986 issue of Bexley News quotes Jeff Frank saying, "not a repertory theater, or an art film theater, or a foreign film theater. The Drexel is a theater in and of itself."5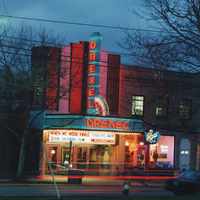 The 1991 renovation turned the theater into three separate screens. The $300,000 project included dividing the original theater into a 320-seat main screen and a 130-seat theater with a 110-seat addition. With this, the Franks could broaden their selection of films to show those with a much more limited audience.
The second phase was completed in mid-1995 when the Drexel Radio Café was opened.6 Though the café is unpretentious from the outside, look in and this is what you will see: an art deco upscale sandwich and dessert restaurant with special coffees and liqueurs with light wood paneling and a ceiling with varied lines and numerous old-time radios stashed here and there. All of this is to add to a special night out at the movie, which Kathy refers to as the "Drexel Experience."7 She, also, confided of the possibility of adding two more screens if the proposal redevelopment of the Bexley City Hall site takes place.
Adapted from article By Edward L. Hamblin
Bexley Historical Society President, 1997-2002
Originally published in Historical Herald, November 2000
If you have information to add to this topic, please let us know.
All comments are reviewed before posting.
Sources:
1 The New Columbia Encyclopedia, ed. William H. Harris and Judith S. Levey (New York: Columbia University Press, 1975) 1844-45.
2 The Columbus Dispatch, 21 December. 1937: 2B.
3 Nominations for Bexley Community Service Award Winner, Biographical Sketch, Archives of The Bexley Historical Society. 1976.
4 "Movies," The Columbus Dispatch, 4 October. 1981: 13.
5 Jay Elhard, Bexley News, 18 June. 1986: Vol. 1, No. 11.
6 Bexley News, 19 July. 1995.
7 Kathy Frank, personal interview, 11 October. 2000.