When was the last time you treated yourself to a visit to Johnson's at 2728 East Main Street? Mine was a short while ago when my wife, Mary, and I took our granddaughter, Erika, for a treat while she was here visiting from State College, PA. Along with a luncheon menu, you have a choice of nearly fifty flavors of ice cream – they try to add a new flavor or two each year.
This all started 52 years ago when Jim Wilcoxon Sr., then working for his father-in-law, Robert N Johnson, at Johnson's Super Market and Meat Locker (opened in the 40's), wanted to strike out on his own. With the super market offering custom orders of ice cream on the side, he recognized the potential for expanding the business. What better place than next door (to the west) where there was a vacant lot?1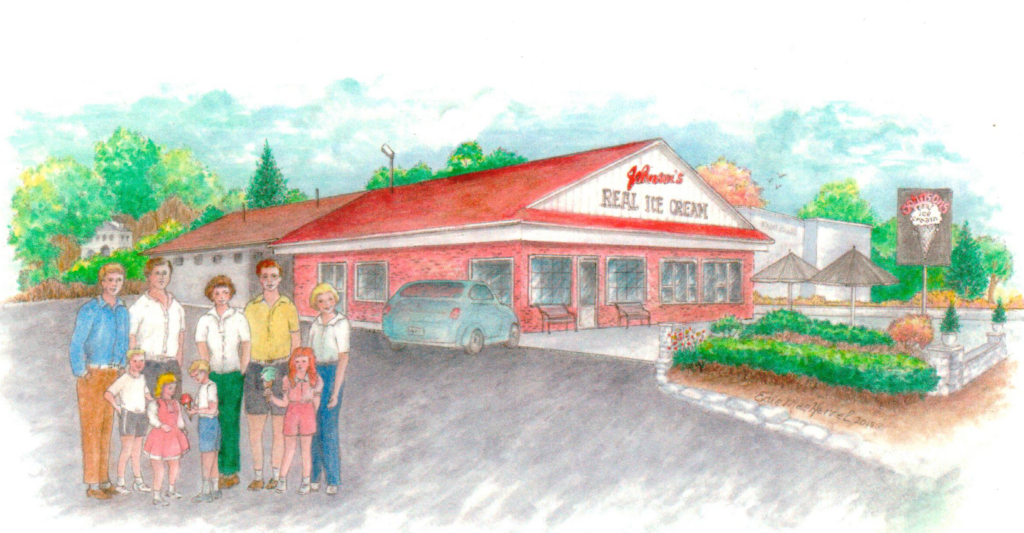 Jim Jr was exposed early to the business, working part-time while in high school and college. With a degree in marketing from The Ohio State University, he decided to join his dad, taking over full-time with his wife, Leslie, in 1973. It was then, too, when they embarked on a major renovation of the building – doubling the capacity and returning to a deli that his father had given up three years after beginning the operation.
In our interview, I asked just how the ice cream was made right there in Bexley. Jim said that they operate pretty much as they always had. Once all the ingredients are assembled, they make ice cream in batches to ten gallons – taking just fifteen minutes. Their daily capacity is about 1,500 gallons. Then there is a twelve to fourteen hour freezing time before the ice cream is ready to be distributed.
The Wilcoxon Family has not shied away from innovation. Wholesaling of ice cream was an early area of expansion. Johnson's now provides premium ice cream in more than 150 restaurants in central Ohio, including for Cameron Mitchell's restaurants – not only in Columbus but also in Pittsburgh (PA) and Cincinnati.
Son Matt, at 27, has expanded the catering side of the business with annual production of ice cream now approximately 50,000 gallons. Additionally, the Reynoldsburg show was opened in 1996.2
Having explored working with Abbott Foods in servicing Cameron Mitchell's restaurants, Jim is open to other opportunities that may lie ahead. In the interview, he emphasized, with my question pointing toward the future, "You can stretch your family just so far, then you have to make the next step."3 With the special assistance Jim gives the Bexley Historical Society's Ice Cream Social in furnishing our "goodies" on the 4th of July, we like it just fine the way it is.
Adapted from article By Edward L. Hamblin
Bexley Historical Society President, 1997-2002
Originally published in Historical Herald, December 2002
If you have information to add to this topic, please let us know.
All comments are reviewed before posting.
1 "Old-fashioned values mean sweet success for Johnson's", Reynoldsburg News, Matthew Oates, September 13, 2000.
2 "Johnson's Thinking Big for Next Half-century", The Columbus Dispatch, Doral Chenoweth, September 26, 2000.
3 Interview with Jim Wilcoxon by Ed Hamblin, August 19,2002.