Did you know…
… Both George Washington and Thomas Jefferson were proponents of a national road. This first federally funded highway, the National Road, was begun in 1811 and in 1833 reached the areas that later became Bexley.
… Stone mile markers were placed along the National Road showing the mileage to various cities. One of the original mile markers can be seen in the side yard of Christ Lutheran Church on Main Street.
… Bexley Historical Society has replica mile marker for sale. One side states: 3 1/2 miles to Columbus. This mileage refers to the distance from Bexley to downtown Columbus.
Written by Nancy Beck
Originally published in Historical Herald, June 2007
National Road at Alum Creek
Friend Street – Main Street – Route 40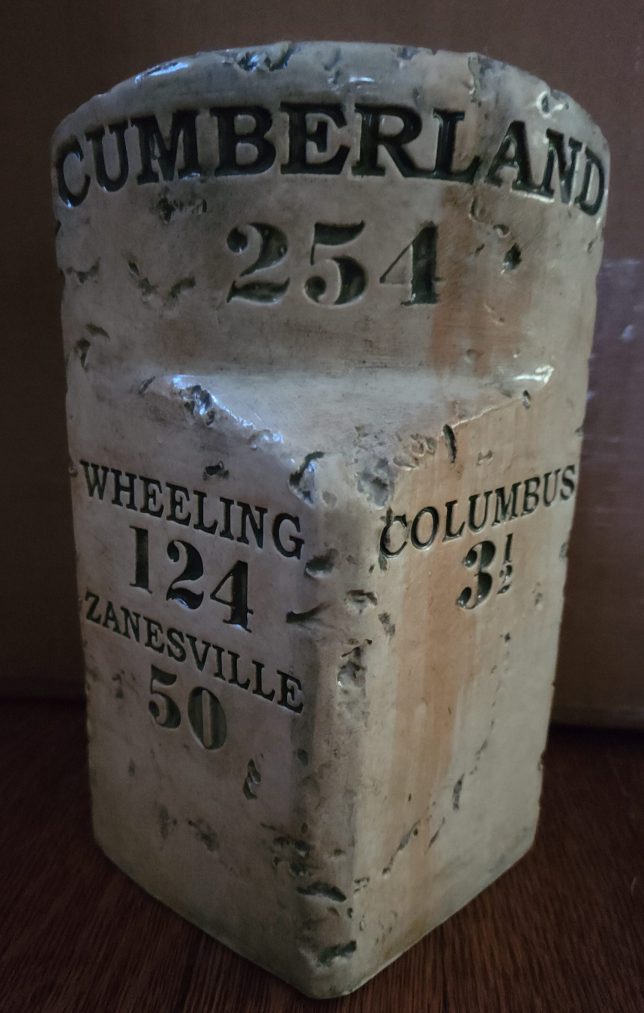 As you approach Main Street looking east from the Alum Creek Bridge, let your mind turn back about a century and a half and visualize a family going west in an ox drawn covered wagon, stopping to refresh themselves and rest by the cool waters of the creek.
Then known as the National Road, the highway was first conceived by George Washington and Thomas Jefferson to meet the needs of settlers going west from Virginia and to also make a smooth way for produce from the west to be transported to the markets in the east.
After Ohio became a state, Thomas Worthington urged Congress to join it to the east by a road. Construction was begun in 1811 to extend the National Road into the new state.
The coming of the National Road to the Bexley area brought all sorts of vehicles, herds of livestock, Conestoga wagons and stage coaches with passengers – including presidents, generals and pioneers – through the previously quiet farm community.
A mile marker, fashioned by a stone mason in 1833, is still standing in the yard of Christ Lutheran Church, reading "Cumberland 254 – Wheeling 124 – Zanesville 50 – Columbus 3 1/2".
What happened next? If you have information to add to this topic, please let us know.
All comments are reviewed before posting.