The Bexley Historical Society has received inquiries from residents asking for information about their homes. We have heard stories from those whose parents were architects in our city, as well as questions about the significance of glass door-knobs or a particular architectural style.
As we researched, we read an article that state Bexley had a number of Sears Homes.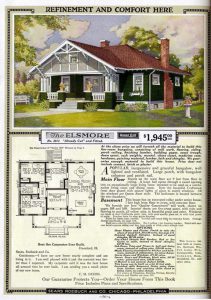 A specialist helped identify a total of 12 catalog homes in Bexley, and we are eager to learn if more are yet to be discovered.
The City created a working group dedicated to historic preservation and to bring awareness to the community about the historical significance of Bexley homes.
We collaborated with the Bexley Public Library's Local History Librarian to compile the model types and foot-prints and hope to soon have more information about these homes.
Homes create a language and rhythm which we attribute to their architecture, as well as a relevancy and contribution to their own historical time and place. to paraphrase local architect and historical preservation working group member, Bill Heyer, our City is full of homes designed by architects, pattern books and even residents themselves.
Bill said that, "…each of these buildings contributes in some way to the overall character of the City and each… owner plays a significant role in maintaining… the City's historic architecture."
From the simple to the ornate, our homes are our treasures. We appreciate the information we continue to uncover as more inquiries come into the Society from our residents.
If you have facts or questions about your home, please contact us at bexleyhistory@gmail.com.
Article by Stacy Grossman, Secretary
Bexley Historical Society
Originally published in Historical Herald, Fall 2020
Join us as we explore Bexley House histories: House Histories. If you have historical information on your home that you would like compiled and shared – please reach out to the Bexley Historical Society at bexleyhistory@gmail..com/HouseHistory
If you have information to add to this topic, please let us know.
All comments are reviewed before posting.