More discovery, more mystery!
One of the more beautiful and serene walks in the Bexley area is the walking/bike trail along the east bank of Alum Creek between the "Academy" bridge – to the south – and Clifton Avenue at its northern terminus.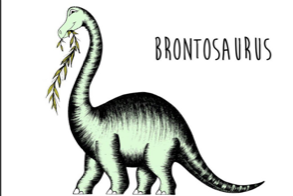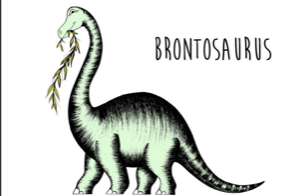 There may be those who remember walking the trail section northward up from East Broad Street, looking across to the west bank of Alum Creek (with St Charles on your right side) and seeing an amazing surprise –> a Large Green Dinosaur about 20-25' long with its long tail, and high arching neck and head. It appeared to be a brontosaurus silently guarding this otherwise pastoral scene.
I used my first discovery of this dinosaur for a "build-up" to an eye-opening walk with my family to ensure their complete surprise and awe of this unbelievable sight! "Where did it come from?" "How did it get there?" I don't remember what vague answers I provided so as to let the mystery linger, but now many years later, here's what I know:
There are several houses and lots along the west bank of Alum Creek, accessible from and very close to Nelson Road.
I believe the site of our long-lost dinosaur was located on the Hugh Browne Pavey property at 106 North Nelson Road.
Hugh Browne Pavey owned the property from 1958-1985, and was a patron of the arts. He donated artworks to the Columbus Museum of Art, and helped fund the purchase of a well-known outdoor sculpture – the "Hare on Ball and Claw" – that was installed on the museum grounds in 1989.
In 1985, the Browne Pavey property was purchased by Ted Eshenour. I cannot remember the exact date of my first dinosaur sighting, so it's possible that Eshenour may have been the owner of the green dinosaur during what was its brief "Bexleyzoic" period of time.
The question remains…where did the dinosaur go? We may wish to believe that it is not extinct, but instead, it is in a place where a big, long, but silent green dinosaur continues to amaze and delight.
Written by Lawrence Helman, Bexley Historical Society Trustee
Edited by Martina Campoamor, Bexley Historical Society Trustee
2022
If you have information to add to this topic, please let us know.
All comments are reviewed before posting.