In the 1830's, the area that was to become Bexley was rural farmland, and the eastern half of the future Bexley would remain farmland for nearly 100 more years.
The family farms of the mid-1800's were generally self-sufficient – with limited reliance on store bought goods – given the difficulty of traveling the muddy trails into the small town of Columbus. Entire lives were lived in and around the farm, with children born and growing up "at home" on the farm – and deaths and burials occurring "down home", as well.
In these times, it was common to designate a portion of the farm to act as the Family Cemetery – likely a spot that was not the most agriculturally productive.
________________________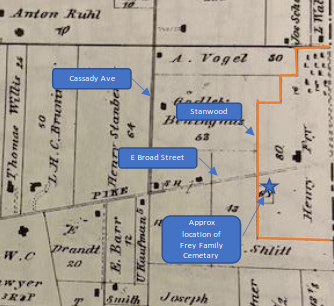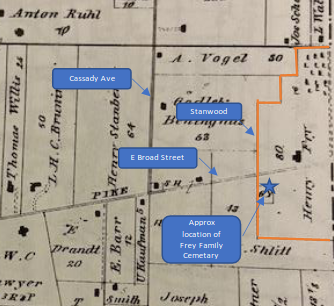 The Frey family owned extensive property holdings (40+ acres), both north and south of what was to become East Broad Street (see image). In 1839, with Joseph Frey's death, the family cemetery was established on the western edge of the farm (approximate location denoted by star).
Soon after, Joseph Frey's son's sold a part of the cemetery to the Catholic church and it was renamed St. Jacob's Cemetery, also known as the German Catholic Cemetery. Over the course of the next 36 years an estimated 49 burials occurred in the cemetery – the last around 1875 when the cemetery was closed.
As development continued its eastern march, all of the remains were relocated to Mt. Calvary Cemetery (next to Greenlawn Cemetery), and the cleared land was sold for lot development in 1911. Ken McClure recalls that the land was swampy, but the "kids went ice skating there when the swamp froze."1
There's an old joke, often made when driving by a cemetery, "People are dying to get in." In the case of the St Jacob's (Frey Family) Cemetery, the new property owners and their builders were trying to get them back out again — happily with total success!
Written by Lawrence Helman, Bexley Historical Society Trustee
Edited by Martina Campoamor, Bexley Historical Society Trustee
2022
If you have information to add to this topic, please let us know.
All comments are reviewed before posting.
1 McClure, Ken. Reflections of a Bexley Boy, 1996. North Stream Publishing. P 14.