Orphan, OSU All-American, Veteran of WWII, Bexley High School Educator and Coach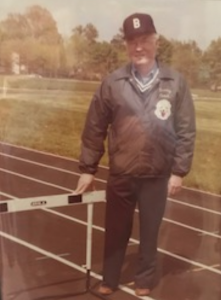 Russ Owen, born in North Carolina and orphaned by age 7, was placed along with three of his siblings in the Tiffin, Ohio National Orphans Home. Here, he attended school, learned a trade (house painting) and excelled in both football and basketball. His coaches recognized his speed and entered him in the preliminaries for the state (OH) track meet. Russ, who had never participated in a track meet, became state champion in the 440 and placed in two other events.
Track coaches from OSU eventually convinced Russ to enroll – where he excelled. Columbus sports writers dubbed him the "Buckeye Bullet". He became the Big 10's 440 champion and was named an All-American.
After winning the 440 in an elite invitational meet at the Sugar Bowl, he received a postcard from Ardmore Oklahoma requesting his autograph.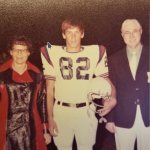 Russ, a member of the US Army Reserve, was called to active duty. His WWII involvement was in the Pacific Islands and he received a Purple Heart when wounded in the leg by flying shrapnel.
Following the war, and now married to Ruby Vance (who also had resided at the orphanage), Russ returned to OSU. Due to his leg injury, his gift of speed was diminished. In 1950, Russ became a business teacher and coach at Bexley High School – where he remained for 31 years.
He coached swimming from 1950-1968;
Assistant reserve football from 1950-1963;
Trainer for all sports from 1950-1981;
Coached cross country from 1970-1981; and
Coached tracker from 1950-1981.
In 1990, Russ was one of the initial inductees of the Bexley Athletic Hall of Fame. Come to the Bexley Historical Society Cottage Museum to see the Russ Owen display.
Research and text by Edie Mae Herrel and Nancy Beck
Photos from the Edie Mae Herrel collection
Originally published in Historical Herald, Fall 2020
k
This individual has a display in the Cottage Museum.
If you have information to add to this topic, please let us know.
All comments are reviewed before posting.