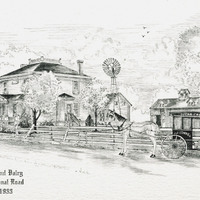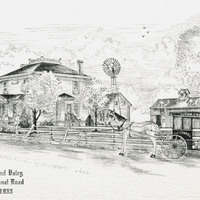 Connell's vegetable stand no doubt, was a popular stop – out in the country – beginning in 1905. It was located at what became the northwest corner of Main Street and Remington – when their greenhouse stood on a two-acre plot. In 1933, what was then called the National Road was a well trodden route completed to Columbus from Wheeling, [West] Virginia. By 1915, cut flowers became more of a seller than vegetables, as motorized travelers ventured out from the capitol.
Connell's base of customers grew with the Main Street High School opening in 1922 and the Village of Bexley growing to over 7,000 people, becoming a city in 1931. So much so that in 1930, Ralph Connell and his son, John, later referred to as Jack Sr., decided to set up a flower shop at 2385 East Main Street.
John lived in the house east of the shop, where he could easily oversee the greenhouse, day or night. Wholesalers such as Engle's Greenhouses on North Cassady supplied Easter Lilies, bulbs, and outdoor mums, not grown by Connell. With the demand for arrangements outweighing loose flower sales in the coming decade, the greenhouses were replaced with an expanded retail facility, including a design room.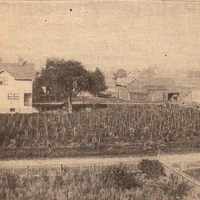 Jack Sr. began taking a leading roll in the enterprise after his return from Guam, following the end of WWII. April Connell explained, "As the market changed, so did we." The addition of the gift shop further enhanced trade by 35% in the 50's. The volume of business also changed from special parties and anniversary celebrations to individual floral arrangement for which Jack Sr. became particularly well known.
April's dad, Jack Jr., directed the shop into indoor tropical plants upon his taking charge at the end of the sixties. This included designing and maintaining plantings in office, hotel and public building lobbies. This, also, was the time that Jack Jr. enlarged his product base by importing new varieties of flowers from South America, specifically Ecuador and Colombia. With the business thriving, Jack invited a college friend, Bob Calder and his wife, Grace, to join the firm – with Bob as General Manager.
Connell's Flowers initiated another remodeling in 1985, making the front expanse resemble an enclosed park, and enlarging the design room and adding an on-line computer system. The growth of their employees from three during the depression to 55, at the time of this article, indicates that it has been one of the most successful enterprises in Bexley. With April Connell entering the business in 1996, a new chapter began with her announcement that the business merged with a newly organized national brand, Gerald Stevens, Inc.
Adapted from article By Edward L. Hamblin
Bexley Historical Society President, 1997-2002
Originally published in Historical Herald, May 1999
If you have information to add to this topic, please let us know.
All comments are reviewed before posting.
Sources:
Interview with April Connell by Ed Hamblin, April 13, 1999. Articles from local newspapers located in the Bexley Historical Society office.