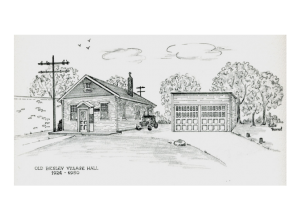 In 1908, when Bexley officially was deemed a Village, they had no meeting hall or municipal building. Council meetings were held in various places, such as Capital university and the basement of the Old Main Street School.
The Bexley Village Council passed an ordinance in 1923, approving a $2,500 expenditure to build a village hall. The wood frame structure was ready for use by the late 1920's. This was 'City Hall' until 1950 when the "new" City Hall was built on the same site – 2250 East Main Street (now the location of the Giant Eagle grocery store).
There was a frame garage next to (just to the east of) the Village Hall. It housed equipment, which by 1930 included four cars, two motorcycles and a fire engine.
You can still see part of the old Village Hall. Drive north on Cassady Avenue and just past the railroad tracks, turn west onto Margaret Street. There, attached to the rear of the Cassady facing building, is the old municipal building.
The 1950 City Hall was replaced by a new structure at 2242 E Main Street – Bexley's third municipal building.
Written by Nancy Beck
Adapted from article originally published in Historical Herald,
Spring 2013.
If you have information to add to this topic, please let us know.
All comments are reviewed before posting.